College Park
[siteorigin_widget class="SiteOrigin_Widget_Image_Widget"][/siteorigin_widget]
St. John's Episcopal Church in College Park has been connecting with the community for over 100 years. The Rev. Terri Brice is now working with the congregation, the Principal of College Park Elementary School, Dr. Otway, College Park Police Department, and the local Parks & Recreation department, to connect with the community in a new way – through Path To Shine®. Everyone is excited to see the impact on the lives of the children – and we are as well!  If you are interested in helping with this program, please contact Michael Isham or Pat Roberts.
Donate a New Book to a College Park Program Participant
Many children in our programs have limited access to books. Please help us spread the love of reading and provide a few new books to a program participant. Through an organization called First Book, Path To Shine is able to purchase brand new books for program participants for pennies on the dollar. First Book prices range from 45 cents to $5 per book. Your donation of $5 will enable us to purchase at least one new book for a child in this program.
Honoring Our 5th Grade Graduate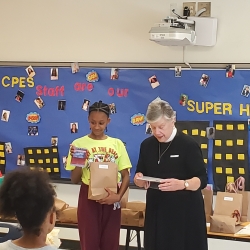 Every year we honor our 5th grade graduates with award ceremonies and parties. College park had an opportunity to do that just in time for school closing due to COVID-19. Path To Shine – College Park had one graduate this year (2020). We are proud of her and we look forward to following her progress. Please join us in wishing her luck.
Did you know Path To Shine® offers support for former students as they journey through high school? Fund the Gap provides financial support to students in need when they apply for college, pay tuition, purchase books, and pay standardized testing fees. We encourage our supporters to help fill the gap for our former students by donating here.
Path To Shine and College Park Elementary School named 2019 Blue Ribbon Partners
We're proud to report that Path To Shine-College Park received the Blue Ribbon Partnership award from Fulton County Schools. The Reverend Terri Brice accepted the award on behalf of PTS-College Park and St. John's Episcopal Church. Great job team!